"Here, There, Everywhere: Beyond Inclusion"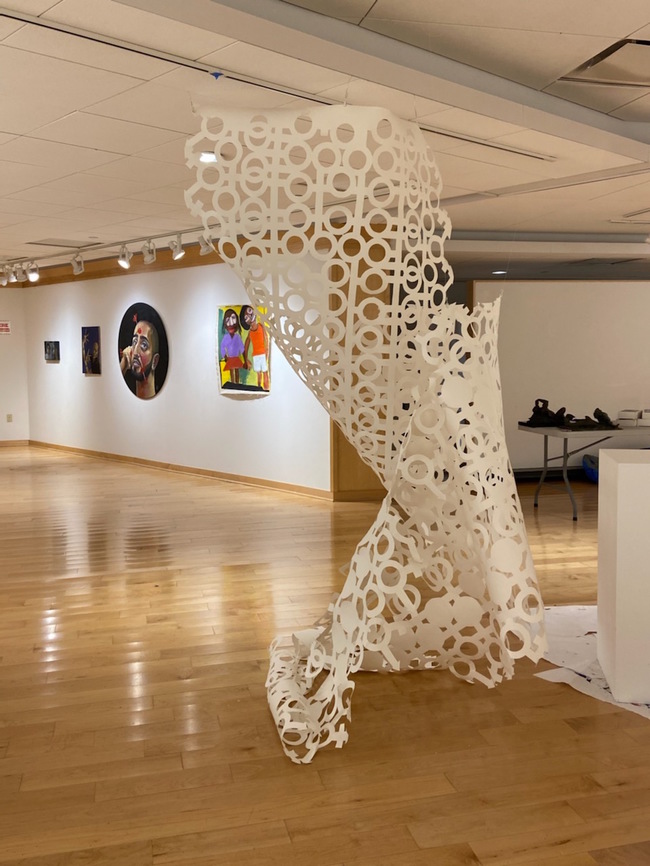 I am exhibiting the cut paper sculpture, "Gender Symbols Flow".
---
"The Roar Within"

I am showing "The Womxn Spiral", cut paper sculpture, 2020, 12' x 6' x 5' in The Roar Within" exhibition.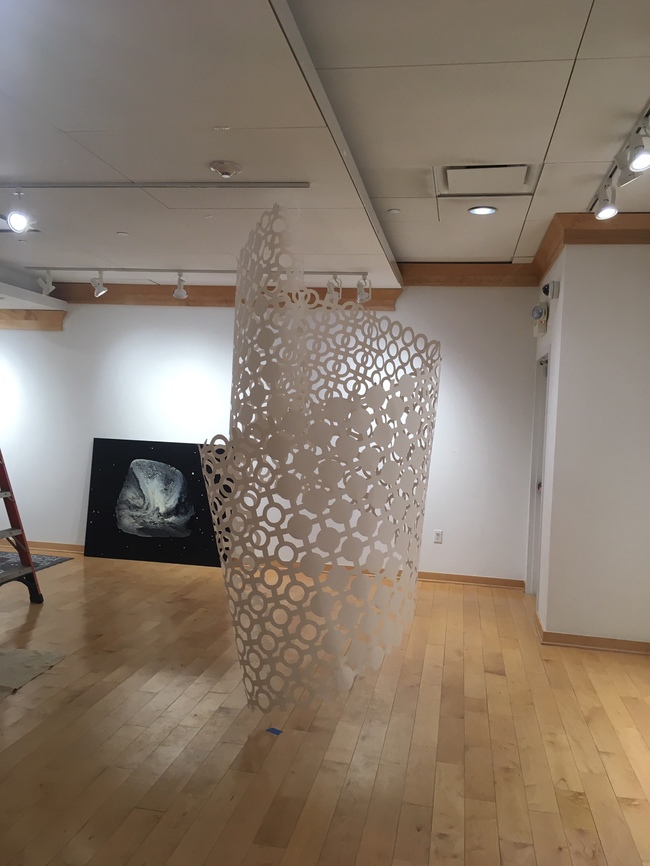 ---
New Members 2020 Exhibit, Silvermine Galleries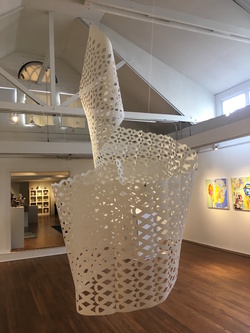 I am exhibiting the "Hanging Ribbon Spiral" in the New Members 2020 Exhibit at the Silvermine Galleries, 1037 Silvermine Road, New Canaan, CT, 06840.

January 19 - February 15, 2020

For more information: 203.966.5617

---
"imMIGRATION" Exhibition
PHOTO: "Carolan Homestead, County Mayo, Ireland", Barbara King, 2019

An exhibition featuring artists who either immigrated to the USA or whose families came here searching for a better way of life, or who had no place else to go if they wished to survive.

Immigrants have contributed their rich cultures, traditions, music, art forms and celebrations, leading to innovation and a profuse exchange of ideas and the resulting migration of creativity from artists has culminated in the flourishing of our nation.

PARTICIPATING ARTISTS: Jose Antonio Arvelo, Haifa Bint-Kadi, Isabella Bannernman, Diane Brawarsky, Barbara King, Carlos Mateu, Gina Randazzo, Ridikkuluz, Sania Samad, Patricia Stuart, Ramona Terrero, Roddy Wilderman

CURATOR: Haifa Bint-Kadi

Riverfront Art Gallery, Riverfront Library, One Larkin Center, Yonkers, NY

October 31, 2109 - January 24, 2020

link: ypl.org/artgallery


---
Paper 2019

I am exhibiting the "Spinal Cutouts II" installation in Paper 2019.

PAPER 2019 features pieces by artists working in paper broadly considered. The aim of the exhibition is to highlight the vitality, diversity, sense of experimentation and skillful execution and the many ways in which contemporary artists approach this material.
Curated by Jennifer Farrell, Associate Curator Drawings and Prints, The Metropolitan Museum of Art, NYC
Exhibiting Artists:
Angela A'Court, J.L. Abraham, Dustin Adams, Tommy Anastasio, Theo. A. Artz, Chellis Baird, Sandra Baker, Anita Gangi Balkun, Justin Barfield, Lisa Berger, Miriam Bisceglia, Mariella Bisson, Emily Blundell, Sonia Bombart, Larissa Borteh, McCormick Brubaker, Nina Buxenbaum, Jennifer Cadoff, Helen Cantrell, Ann Chernow, Marcia Cooper, Aurélien Couput, Ivy Dachman, Marina Daneva, Elysa DeMartini, James Dormer, Katharine Draper, Alanna Fagan, Arlene Farenci, Ecka Blaire Faulds, Donna Forma, Sally Frank, Catherine Freudenberg, Leslie Fry, Hanneke Goedkoop, Vincent Hawley, Fran Henry-Meehan, Kate Holcomb Hale, Lauren Horelick, Renée Hughes, Leandre Jackson, Mary Janacek, Christina Kang, Judith Orseck Katz, Elisa Keogh, Barbara King, Lara Knutson, Karleen Kubat, Carole P. Kunstadt, Nancy Lasar, Liz Leg- gett, Wayne Madsen, Victoria Manning, Ellen Mason, Mary McFerran, Kiyoshi Otsuka, Maryanne Pollock, Gina Randazzo, Barbara Ringer, Gerald Saladyga, Susan Siegel, Marisa Silverstein, Taro Takizawa, Keith Thomson, Job Tibay, Lynne Tobin, Cedric van Eenoo, Evan Venegas, Gregg Welz
Silvermine Arts Center l 1037 Silvermine Road New Canaan, CT 06840 l silvermineart.org
Gallery Hours: Monday-Thursday: 12pm-5pm · Friday: By Appointment · Saturday: 12pm-5pm · Sunday: 1pm-5pm


---
Womantide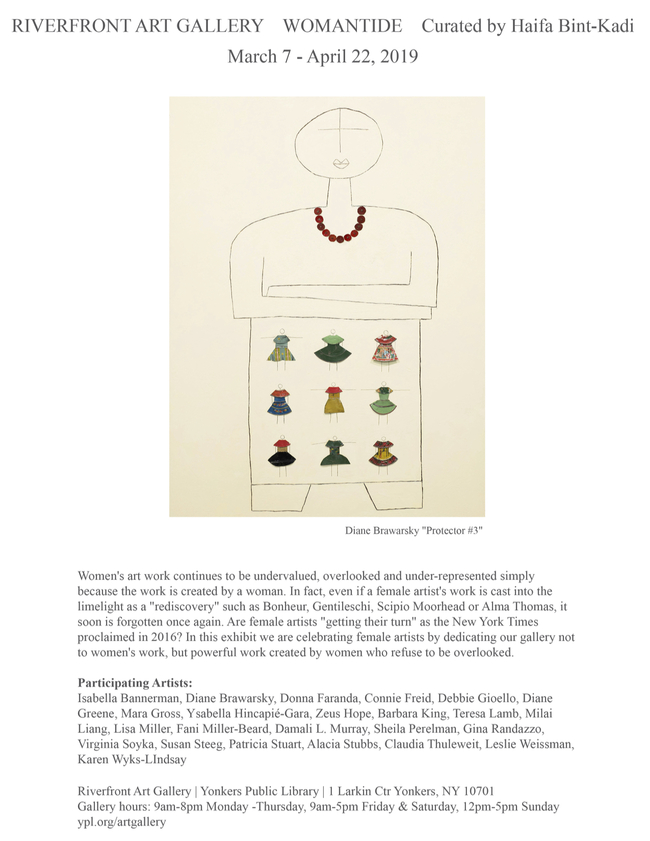 I am showing 3 decorative large fabric cut panels in the Womantide exhibition.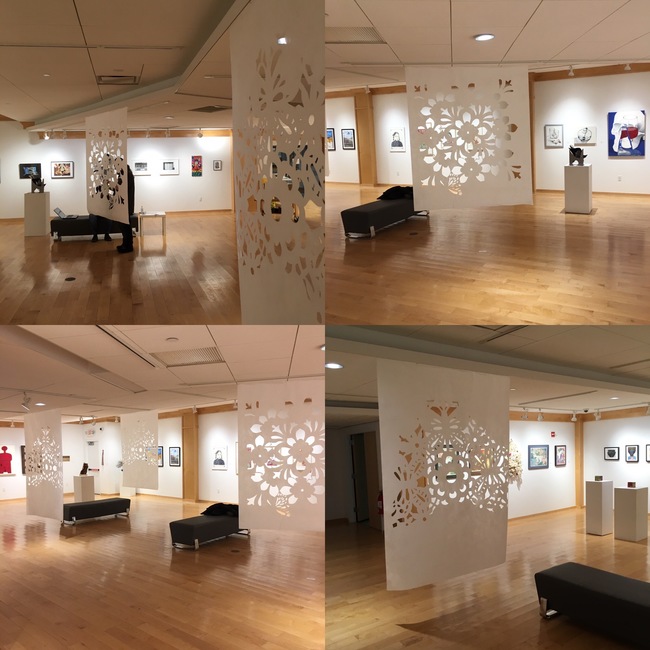 ---
Listen: Artists Respond to Politics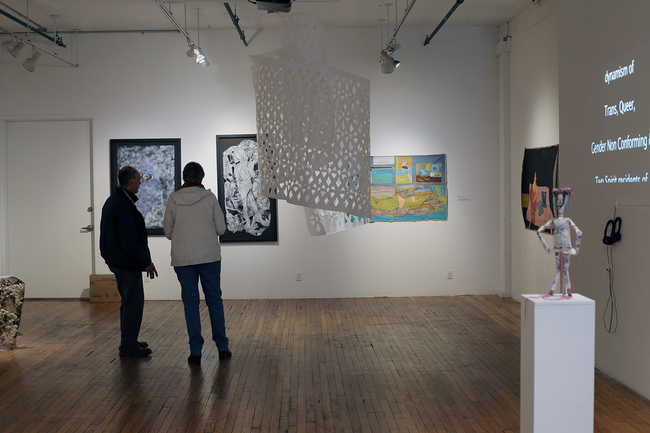 I am showing the cut paper sculpture, #BASTA! in the Listen#BAS exhibition.
Francheska Alcantara, Seyi Adebanjo, Lizzy Alejandro, Pamela Cortez, JP-Anne Judy Giera, Barbara King, Jody MacDonald, Wyeth Moss, Gina Randazzo, Ruth Rodriguez, Christine
Sloan Stoddard , Rosemary Taylor, Sima Schloss
Gender profiling begins pre-birth. Testing can determine gender in utero and the inculcation of the gender divide begins, from the unveiling parties that have arisen with gendered cakes assigned colors and symbols to highly specific offerings in clothing, toys and accessories for children. From the boy/girl lineup present in many schools to the numbers of women entering STEM careers, gender is ubiquitous,
LISTEN: Artists Respond to Politics,
explores the diversity of responses among 13 cis and trans women and gender non-conforming artists to our current political times and the #MeToo movement. Political upheaval forces society to name the wrong, to define oneself, to advocate for the rights of ourselves and others, and to respond to oppression of all marginalized groups. The artists explore social, political and gender constructs and how they play a part in sexual harassment, assault and the emergence of the #MeToo movement. Is there a direct correlation to how one is depicted and how they are treated? How are sexualized depictions of women in the media contributing to sexual assault? How are trans women and gender non-conforming persons represented in the media? How can the tide be shifted? In these troubling times voices need to be heard. We want you to listen and respond. Visitors will be asked to share their reactions, ideas and plans for confronting these issues.
Francheska Alcantara's
work explores Caribbean culture and the diaspora. Alcantara examines core aspects of the #MeToo movement and the public and private aspects of coming forward about sexual assault and harassment.
Seyi Adebanjo
is a gender-non-conforming trans
artist whose film focuses on the impact queer/trans/gender non-conforming persons are having in the Bronx and living proudly, with joy and boldness.
Lizzy Alejandro's
work addresses menstrual equality and taxation of sanitary products as luxury items, encasing sanitary products in gold and jewels bringing to light the lack of equity in access to women's health needs.
Pamela Cortez's
digitally
manipulated photographs depicts
women as both powerful and delicate, possessing the ability to carry and give life. Based on the artist's experience as a transgender femme-identified individual,
JP-Anne Judy Giera's
mixed media installation elucidates the complexities of public restroom use for
transgender people and transforms it into a sacred space, a holder of "holy water".
Barbara King
creates paper installations evocative of femininity and decoration. These cut paper patterns are presented in undulating rhythmic formations.
Jody MacDonald
explores identity, hierarchies, and stereotypes through poetry and humor in
her
sculptural figures.
Wyeth Moss
focuses on sexual identity, abuse, mental illness, and healing through ancestral remedies in detailed figurative drawings.
Gina Randazzo
documents protests and rallies through photography capturing the spirit of protesters through intense and colorful photographs.
Ruth Rodriguez's
work questions the quality and validity of ornament, her figurative work is embedded in rich patterning, inspired by Afro-Caribbean and American Pop culture.
Christine Sloan Stoddard's
work explores gender expectations through her vivid piece of a bloody vagina and poem.
Rosemary Taylor's
mixed media collages confront representations of the female body in media and race and gender in voting patterns.
Sima Schloss's
work contains a raw emotionality using layers of vellum creating depth of experience and a luminous quality of a person turned inside out.
Deborah Yasinsky is an artist, curator and the Curator of Education at Lehman College Art Gallery. Deborah has exhibited at Dominican University, Local Project Art Space, 14 Street Y Gallery, Trestle Online Gallery, Greenpoint Gallery, Brooklyn Waterfront Artists Coalition, Riverfront Art Gallery, Urban Studio Unbound, Blue Door Gallery, Pubic Appliance, YoHo Artists, Purchase College PC4, and YAW. Currently she is an MFA in painting candidate at LC, CUNY, she holds an M.S., Ed in Museum Education from Bank Street College of Education, a BA in Fine Arts from Stern College, YU, and an AAS in Textile/Surface Design from FIT.
www.BronxArtSpace.com Gallery Hours art@bronxartspace.com W-F 12-6:30, Sat 12-5pm
Free Workshops + Events
RSVP at www.withfriends.co/bronxartspace

BronxArtSpace (BAS) is a non-profit gallery that promotes the innovative ideas of underrepresented and emerging artists and curators.
---