---
RiverArts® STUDIO TOUR 18
4/19/2018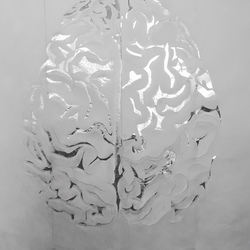 I will be opening my studio for the 25th annual RiverArts Studio Tour. The tour is a multi-village adventure featuring over 100 local artists. Get to know us by visiting our studios, collecting our work and meeting other art lovers along the way. In addition to the three preview exhibitions that anchor this year's tour, the Dobbs Ferry ArtWalk showcases works by Studio Tour artists in store windows downtown.

My studio is located at: 93 Kent Avenue, Hastings-on-Hudson. Visit: www.studiotour.riverarts.org for directions or call: 914.329.7996
---
Katonah Museum Art Association at the Northern Westchester Hospital
3/22/2018
You are cordially invited to view an exhibition of work by the members of
The Katonah Museum Artists Association
at Northern Westchester Hospital
400 East Main Street
Mount Kisco, New York

Please join us for a reception and gallery tour
The Conference Center of Northern Westchester Hospital
Saturday, March 24, 2018 from 3:00pm – 5:00pm
Art exhibit includes works by:
Alan Jacobson
Barbara Borck-Hart
Barbara King
Cecilia Soprano
Elysa Belessakos
Gregory Weiss
Joan Lengel
Katherine P. Goodman
Kathryn Ruby
Lynn Cukaj
Michelle Grosjean Brewster
Mitchell Visoky
Nadia Forero

The show runs from March 24 - September 25, 2108

above photo: Installation of 9 Ribbon Mixed Media Paintings, 11" x 11", acrylic gel, acrylic paint, glitter, pencil
---
Sculpture Magazine Review April 2017
3/17/2017
NEW YORK
Barbara King
Narthex Gallery, St. Peter's Church

Barbara King's recent exhibition, "Ribbon Meditations," was shown in the narthex of St. Peter's Church in Midtown Manhattan. For over 50 years, the church, which is committed to creatively shaping the life of the city and its community, has served immigrants, the homeless—people of every race, ethnicity, and language, at every economic level, and at every point of the gender spectrum. The arts play a vital part in living out this mission. The church commissions and installs permanent and temporary art, using it to spark public conversation and dialogue.
An intersection of American culture, politics, and spirituality, "Ribbon Meditations" fit squarely within the mission of the church, and it felt particularly appropriate during the contentious 2016 election cycle. The original idea for the works came from the yellow, ribbon-shaped magnets that appeared on the back fenders of cars in support of U.S. troops during the Iraq invasion. Soon the symbolic ribbon shape was adopted for other causes and in different colors, and the magnets became as ubiquitous as license plates.
Issues of war and peace have always been central to King's work. She began experimenting with medallion and ribbon shapes in paintings and mixed-media pieces. She defined the ribbons first with pencil and then filled them in with a thick application of white acrylic paint to allow viewers to imagine their own color or cause. The paint was then overlaid with white paste-like glitter, which gives the ribbons a distinct sculptural appearance with shifting light and shadows and intertwining positive and negative spaces.
A number of these early Medallion Ribbon Paintings appeared at St. Peter's. These sculptural paintings then led King to cut looping ribbon shapes repeatedly into large rolls of white printmaking paper to form lacy screens and spiral-shaped hangings. While the ribbons commemorate death, the spiral shapes echo the breath of life up and down the human spine.
One spiral wall piece, The Ribbon Spiral, was suspended over the stairwell leading down to the sanctuary. The view as you descended mimicked the view of the ribbon magnets attached to a car driving in front of you, though King's magnified and now stationary ribbon had become an imposing, almost surrounding presence.
A visual breakthrough occurred when King conceived of gathering the cut-out, leftover pieces and sewing them together into delicate, patterned, hanging paper sculptures that respond to air movements. She spent hours tracing and cutting the ribbon shapes. She then marked the paper where they would belong if they were put back in place and threaded together the leftover bits. Depending on the light, one could see the shape of the ribbons in the shadows, evoking life and death simultaneously.
A gigantic hanging paper sculpture, The Spinal Cutouts, both embraced and confronted viewers entering the narthex. The breeze created by the opening of the door made visitors active participants in the creation of this floating veil of shape and shadow, a veil simultaneously shrouding and revealing the infinite in a powerful visualization of "what remains" of those we remember and love.
—Renata Karlin

---
"Why Women Create Art in Politically Charged Times"
3/16/2017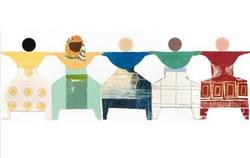 RiverArts presents:
Sunday, March 26, 3:00 PM · 45 Clinton Ave, Dobbs Ferry, NY 10522-2201
Please join me along with Marisa Silverstein, Diane Brawarsky, and
Audrey Sackner-Bernstein to discuss how political issues are a generating force in our work. Moderated by Channel 13's Arts Correspondent, Christina Ha.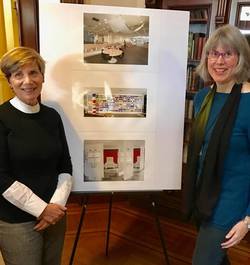 With Karen Keller after the conversation
---
The Vagina Monologues, South Presbyterian Church, Dobbs Ferry, NY, February 11, 2017
3/16/2017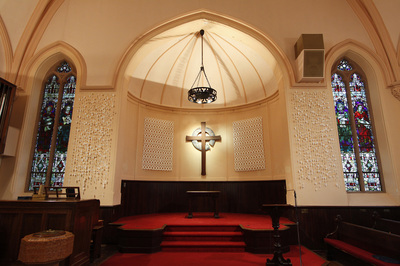 I will be showing paintings and installations from my Ribbons Series at South Presbyterian Church for the Vagina Monologues, February 5, 7:00 P.M.

The art work will be displayed until March 19, 2017



A reading of Eve Ensler's




THE VAGINA MONOLOGUES




TRANSFORMING





IN SUPPORT OF THE V-DAY GLOBAL MOVEMENT TO END




VIOLENCE AGAINST WOMEN AND GIRLS





Saturday February 11, 2017 7:00pm





South Presbyterian Church




343 Broadway, Dobbs Ferry, NY 10522




Tickets: $20/ Seniors and Students $15 Ages 16 and over


Tickets sold only at the door.
Doors open at 6:00pm

DIRECTED BY MARIE-LOUISE MILLER, FEATURING:

Sarah Brockus Hastings, Meg Bussert Yonkers, Jen Cadenhead Hastings, Ellen Flaks Dobbs Ferry, Nora Freeman Dobbs Ferry, Laura Giannone Hastings, Reverend Jane Ann Groom Portchester, Jean Howell Dobbs Ferry, Maiysha Jones White Plains, Marta Legan Dobbs Ferry, Lin Osborn Hastings, Reverend Drew S. Paton
Dobbs Ferry, Donna Thompson Dobbs Ferry; Natalis Wamba Hastings, Paula Finn, Hastings

MUSICIAN: Celine Daley

PRODUCED BY LAURA GIANNONE, MARIE-LOUISE MILLER and DONNA THOMPSON

Benefitting: HOPE'S DOOR Embracing Life Free From Domestic Violence
Hope's Door, a Westchester based organization that seeks to end domestic violence and to empower victims to achieve safety, independence, and healing from the trauma of abuse. hopesdoorny.org
---
Ribbon Meditations Exhibiton
9/22/2016
"Ribbon Meditations" is a site-specific installation designed for the Narthex Gallery in St. Peter's Church in New York City. The work's genesis was the "Support our Troops" ribbon-shaped car magnets that became ubiquitous during the U.S. invasion of Iraq in 2003. As the symbol was adopted for other causes and became cultural shorthand, I began tracing and experimenting with various designs using the ribbon shape to create mixed media paintings. I decided not to add color to the ribbons, leaving the interpretation open. I then explored working with large rolls of printmaking paper, cutting the looping shapes of the ribbons into the paper creating lacy screens, wall hangings and sculptures. At the end, I gathered the cut out pieces and sewed them into delicate patterned, sculptural strips that respond to movement in the air. The materials and patterns evoke the decorative art movement and reflect a feminine sensibility. The work employs shifting light and shadow and positive and negative space. The installation combines the forms that I experimented with using the symbolic ribbon shape and places them in the sanctuary's lobby gallery, keeping in mind the church's mission as a place of hospitality and welcome, a moral space.
---
River Arts Studio Tour, April 16 & 17, 2016
4/16/2016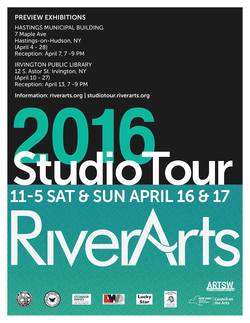 Photo below: I am working with residents at Andrus on Hudson to create decorative art from stencils to be displayed as a group installation.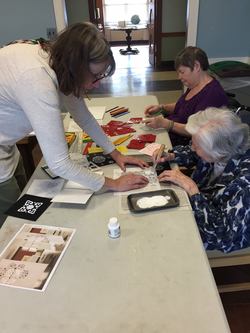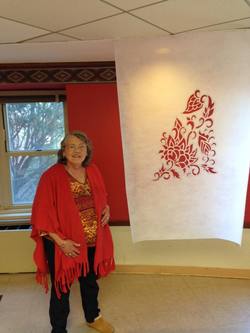 Photo above: Shelia Moore with her decorative art panel, 5' x 4',
created in the workshop for the group installation.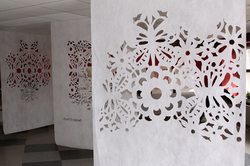 I will be showing decorative fabric panels with the residents.

To see the installation of the work created by the residents and me, please visit Andrus on Hudson, 185 Old Broadway, Hastings-on-Hudson.


---
Survey of Regional Artists, Gallery 66NY, 66 Main St.,Cold Springs, NY, February 5 - February 28, 2016
2/5/2016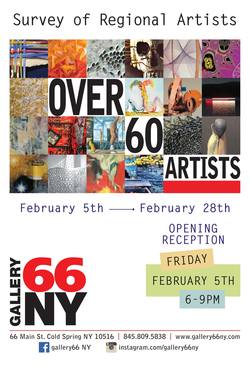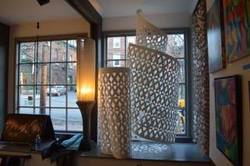 I am showing the Ribbon Wraparound and Cutouts Installation

---
Blue Door Gallery's 8th BDAC Artist-Member Juried Exhibition, January 9 - February 6, 2016
1/9/2016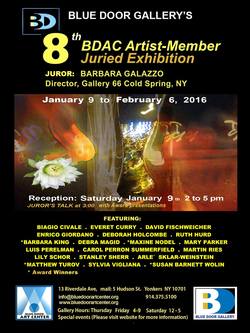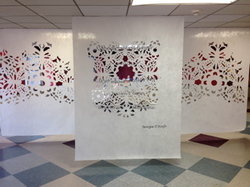 Submitted: Spring Installation, Andrus on Hudson, Hastings-on-Hudson, NY, 2016
Awarded 2nd place, juror: Barbara Galazzo, Gallery 66NY, Cold Spring, NY

Blue Door Gallery, 13 Riverdale Avenue, Yonkers, NY

---
Generations X: Razzle Dazzle, A.I.R. Gallery, January 7 - February 7, 2016
1/7/2016
SHOW OPENING: January 7, 2016, 6-9pm
SHARON BUTLER PRIZE: Thursday, February 4, 2016 at 6:30pm
The exhibit presents a range of women artists of many generations and styles. This year, Generations X: Razzle Dazzle showcases over two hundred distinguished, as well as, emerging artists from cities such as New York, Seattle, New Orleans, and San Antonio, as well as, countries such as Korea and England.
Show Dates: January 7th - Feburary 7th 2016
for more information visit:
http://airgallery.org/exhibitions/generations-x/


"Support our Razzle Dazzle", Encaustic, ink, glitter, 10" x 10", 2016